Rejuvenate Your Skin and Restore a Youthful Glow
Welcome to Laser 'n' Beyond, where we offer HydraFacial.
Hydrafacial is a three-in-one treatment that cleanses, extracts, and hydrates your skin in just 30-45 minutes. You'll get similar results as you would from an extraction, peel, and facial—without the irritation or redness.
Hydrafacial Deluxe includes a booster to address skin tone & texture, dark spots, fine lines & wrinkles, or congested pores and concludes with LED Light Therapy to further reduce the visible signs of aging
What is HydraFacial Treatment?
Cleanse and Peel – Hydrafacial MD gently cleanses the surface of the skin, removing oily secretions and exfoliating dead skin cells. A light peel, consisting of lactic, salicylic, and glycolic acids, exfoliates the skin using a circular motion to remove blockages and debris, allowing the skin to absorb vital nutrients from the healing serums.
Extract + Hydrate – The Hydrafacial MD tool gently vacuums away impurities, blackheads, and dirt while saturating the skin with moisturizers and nutrient-rich solutions that soften and hydrate the skin. The unique system thoroughly exfoliates and extracts debris without causing redness or irritation.
Fuse + Protect – The final step of the Hydrafacial MD process is to deliver a customized healing serum with ingredients like hyaluronic acid, antioxidants, peptides, and amino acids into the clean, open pores. Healthy antioxidants provide firm skin and repair damage. Peptides are a building block for the skin cells that encourage the renewal of skin elasticity, and hyaluronic acid reduces the appearance of wrinkles and promotes the production of collagen.
Quick, refreshing and soothing treatment

Fortifies skin with antioxidants and vitamins

Improves skin tone and texture

No downtime, non-invasive and painless

Rejuvenates skin and reduces signs of aging

Improves redness + inflammation

Three powerful high-tech procedures combined into one superior facial

Beneficial and safe for all types of skin

Reduced appearance of fine lines and wrinkles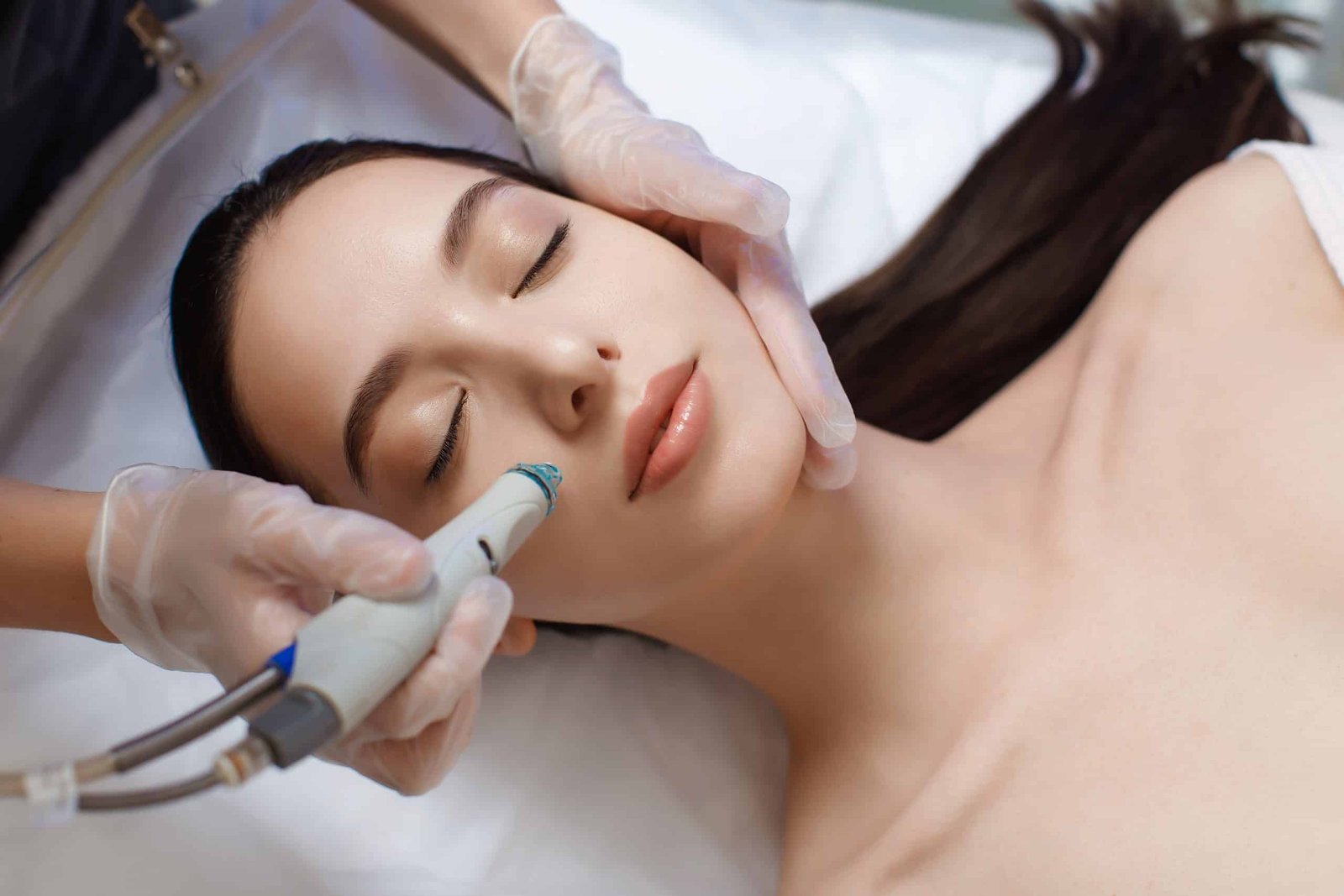 How to prepare for your HydraFacial Treatment
A Hydrafacial specialist at Laser 'n' Beyond will examine the patient's skin tone, type, elasticity, texture, and any skin conditions during a private consultation. A customized Hydrafacial treatment plan is created for approved candidates that include the use of specific tips, serums, and boosters for optimal results. We advise patients to come to their treatment visit with minimal makeup and products on their skin. Please inform our staff if you are pregnant, breastfeeding, or actively trying to get pregnant.
The Hydrafacial is a zero downtime procedure. Patients can resume normal activity immediately after their procedure. Our master aestheticians will work closely with you to devise an effective medical-grade skincare regimen that you can pursue at home to enhance and preserve the results of your Hydrafacial.

Why Choose Laser 'n' Beyond for HydraFacial Treatment?
Expertise and Experience:

Our highly trained professionals specialize in non-invasive skin rejuvenation treatments, including TempSure Envi. We have the expertise and experience to deliver safe and effective treatments, ensuring optimal results for our clients.

Advanced Technology:

Laser 'n' Beyond utilizes state-of-the-art TempSure Envi technology to provide precise and controlled radiofrequency treatments. Our advanced equipment ensures maximum efficacy and safety.

Personalized Approach:

We understand that each individual has unique skincare concerns and goals. Our team will assess your specific needs and customize the TempSure Envi treatment to address your specific concerns, providing a personalized treatment plan tailored to achieve the best possible results.

Patient Satisfaction:

At Laser 'n' Beyond, your satisfaction is our top priority. We are committed to providing exceptional care and delivering results that exceed your expectations. Our experts will guide you throughout your TempSure Envi Treatment journey, answering any questions or concerns you may have along the way.

Unlock Your Skin's Potential with HydraFacial Treatment
If you're ready to rejuvenate your skin, minimize fine lines and wrinkles, and restore a youthful glow, Hydrafacial Treatment at Laser 'n' Beyond is the ideal choice. Contact us today to schedule a consultation with our experts and take the first step toward achieving the skin you've always desired. Experience the transformative power of Hydrafacial and unlock your skin's true potential.
Frequently Asked Questions