Achieve silky-smooth arms with full arms laser hair removal, a popular and long-lasting solution for unwanted arm hair. Not only does this cutting-edge method provide longer-lasting results than traditional methods like waxing or shaving, but it also significantly reduces the risk of ingrown hairs. Ideal for both dark and light skin tones, laser hair removal is trusted by thousands for its efficiency. When seeking a hassle-free and permanent hair reduction method, choose full arms laser hair removal, executed by certified professionals at Laser 'n' Beyond. Don't miss out on this top-tier beauty trend, ensuring hair-free confidence every day.

What is Full Arms Laser Hair Removal?
Many women are on the quest for hair-free arms, and the demand for effective treatments is evident. But which method truly delivers?
Shaving, whether with creams or gels, tends to irritate the skin, and the swift regrowth is often discouraging. Arm shaving might not be the simple solution many hope for.
While waxing promises smoother skin, the pain is a deterrent for many. Similarly, depilatory creams can be harsh on sensitive skin.
Choosing full arms hair removal with Laser 'n' Beyond offers a lasting reprieve from undesired hair, targeting areas from below the shoulders to the wrists.
Given the expansive surface area, treating women's full arms requires dedication – a session might span about twenty-five minutes. Looking to further your hair removal journey? Explore options like underarm and full back laser hair removal treatments.

How to Prepare for Arms Laser Hair Removal?​
Please ensure your skin is freshly shaved prior to your appointment. This helps the laser effectively target the base of the hair follicle.
On the day of your appointment, please do not use lotions or other products, ensuring the treatment area is clean
Avoid skin exfoliation or the use of potent skin-rejuvenating products a few days leading up to your treatment. 
It's essential that your skin retains its natural tone for the procedure. Steer clear of tanning, direct sunlight, and artificial tanning products.

Why choose Laser 'n' Beyond for Laser Hair Removal?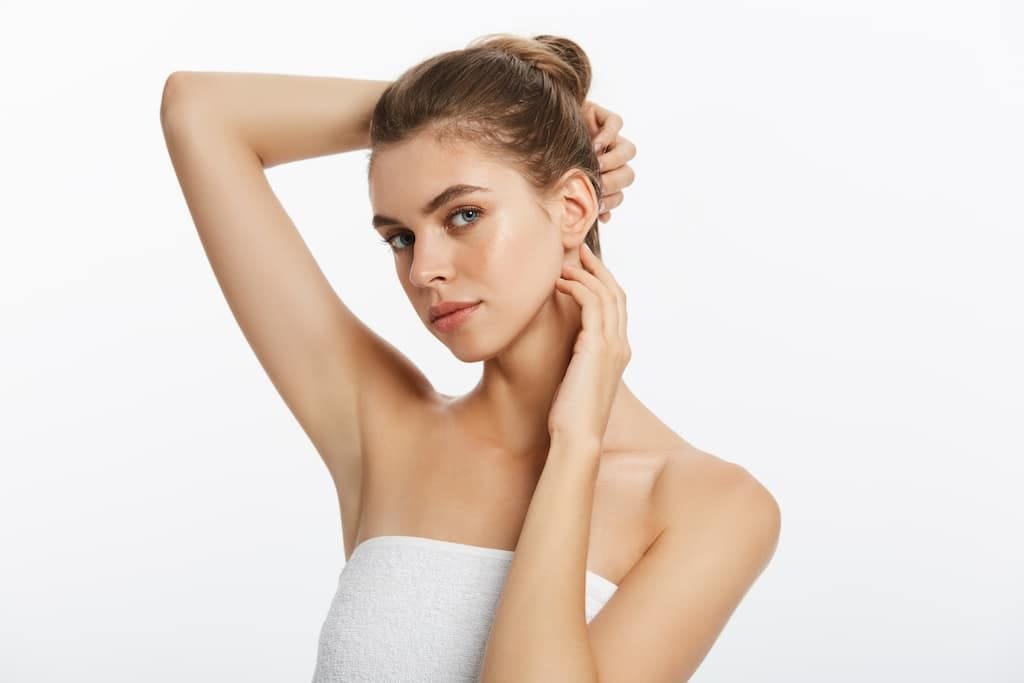 At Laser 'n' Beyond, we pride ourselves on delivering exceptional laser hair removal services. Here's why you should choose us:
Expertise and Experience: Our highly trained professionals specialize in laser hair removal and have extensive experience in providing safe and effective treatments.
Advanced Technology: We utilize state-of-the-art laser technology, ensuring precise and efficient hair removal with minimal discomfort.
Personalized Care: We understand that each client has unique needs and goals. Our team will provide a customized treatment plan tailored to your hair and skin type, ensuring the best possible results.
Comfort and Safety: Your comfort and safety are our top priorities. We take the necessary precautions to ensure a comfortable and safe treatment experience.
Ongoing Support: We are committed to your satisfaction throughout your laser hair removal journey. Our experts are available to answer any questions or concerns you may have and provide comprehensive post-treatment guidance and support.
Frequently Asked Questions
Book Your Free Consultation

For more information about our laser services, locations or our certified laser technicians, contact Laser 'n' Beyond today and get a free consultation!